David Murray started out in business on his own in 1987 when he purchased his first vehicle to undertake the haulage of agricultural produce for a local Carnoustie Company.
David Murray Transport operate 18 articulated units on long-distance haulage with further 2 units being used to meet Scottish work and to undertake shunting contracts for Strathmore Mineral Water and Galloway Group. In addition the company owns a 7.5 tonne DAF for lighter deliveries and smaller deliveries can be accommodated using the company's small vans. All of the articulated units on long-distance and Scottish work are plated to the legal maximum weight of 44 tonnes.
David Murray Transport has a majority fleet of DAF vehicles. The company's fleet of 45 trailers are 45ft curtain-siders of varying makes from the latest SDCs to Montracon & Dennisons all of which are ideally suited to the company's prime haulage of drinks and dry goods. Two of our trailers are fitted with tail lifts to accommodate delivery work.
In 2010 twenty five staff were celebrating after matching six numbers in the Lotto draw on Wednesday 24th February, picking up a cheque for £739,121.
Divided equally, each player took home £29,500, more than enough to buy a luxury new car, book the holiday of a lifetime and enjoy a few bottles of champagne.
The traffic co-ordinator and syndicate leader rushed into work to check the ticket on Thursday morning, only to find them locked in Margaret's drawer for safe keeping. After waiting for what seemed like forever for her to come in and unlock the drawer, he raced to the local Spar store to get confirmation.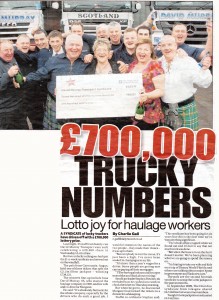 The syndicate of 25 was made up of staff from all areas of the business from truck drivers to store men. The youngest was a 16 year old apprentice mechanic who had recently joined the company.
For more information on day to day activities in the company please watch our electronic press kit below:
1